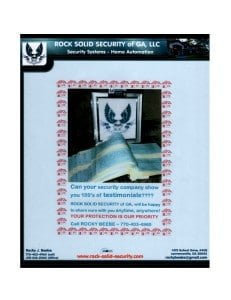 Don't take our word for it, let our customers tell you!   We have kept 100's of testimonials over the years from our loyal and happy customers!!  WE offer the best home or business security alarm and camera system protection in Georgia.  We have the "lowest" monitoring prices in GA along with "top quality"  equipment and the"latest smart technology"  and the best "customer service".   That is a combination that can't be beat!   Our company has your winning combination, you get the "trifecta" with us!
GOAL is your BENEFIT to make sure we give the best customer service and security systems in town!   That is why we are "ROCK SOLID SECURITY of GA" 
Go to our testimonial page on our website by clicking on "ABOUT US" and then click "TESTIMONIALS"
Rocky Beebe ~ Owner – Call me today @ 770-403-4960!