SHOPPING FOR SMART HOME DEVICES?? CHECK OUR GUIDE!
ROCK SOLID SECURITY an "authorized dealer of "Alarm.Com"

Powerful technology has made home automation and smart devices an affordable reality. However, knowing where to start and what to buy can be a big challenge. Help has arrived in the form of Alarm.com's online Smart Home Guide.
You can now buy smart thermostats, video cameras, and security systems that let you control many parts of your home through a mobile app. However, when just a single device can cost hundreds of dollars, you need to understand how to make a smart choice for a smart home solution.
Do you want to install everything yourself, or should you leave this part to a professional? Will all your devices work together and do you understand how to set them up?  How do you make sure your home stays secure?
With more than 2 million smart homes powered by our technology, Alarm.com wants to share our knowledge and tech expertise to help you make the right choice.
So we created an online Smart Home Guide. 
This multimedia website guides you through the modern smart home and its devices, helping you understand the options and features available.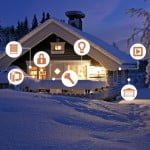 Click these Smart Home Guide links to explore: 
Smart home versus connected devices   Understand the difference between standalone devices and a smart home system that connects devices together.
How to choose connected devices What features should you look for when shopping for smart thermostats, connected lighting, video monitoring, locks and security systems?
Installation considerations and options Device-by-device tips on what you need to know to install devices, and when it's best to leave it to a professional.
How to get more from your smart home A step-by-step guide to setting up, personalizing and automating a full smart home system.  We'll be updating our Smart Home Guide with new information and tips regularly, so be sure to come back and check out what's new.
Call ROCK SOLID SECURITY today ~ FREE ANALYSIS OF YOUR HOME ~ GIVE THE GIFT OF LIFE SAFETY!!